PLYMSTOCK SUPPORT LOCAL CANCER CHARITY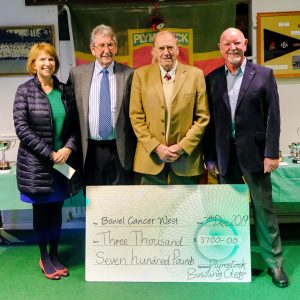 Plymstock Bowling Club have a tradition of given their Club Captain the choice of a charity which they would like to support throughout their year in office.
For Sandy [Brian] Saunders, Club Captain for the 2018-19 season, it was a "no brainer"
Diagnosed with Bowel Cancer in 2007, and still around to tell the tale, he had no hesitation in nominating Bowel Cancer West as the charity he wanted the club to support.
During his year, with the help of all club members and supported by their Shanty Group "The Grumpy Old Men" they raised an "AMAZING" £3700.00
This was presented to representatives of Bowel Cancer West at the club's Lawn Bowls Presentation Evening on 7th December.
Pictured in the attached photograph, from left to right, are Fred Burch – Club President, Jeanine Caley- Admin [Co-ordinator for BCW], David Darke – BCW Patron and Sandy Saunders Club Captain [2018-2019].